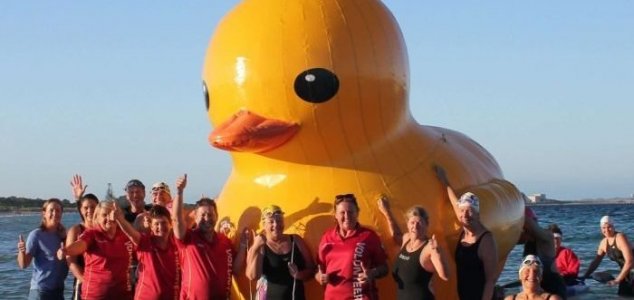 The giant duck has gone AWOL.

Image Credit: Facebook / Cockburn Masters Swimming Club
A swimming club in Australia has appealed for ships to keep a look out for its recently escaped mascot.
The huge duck, which has been nicknamed 'Daphne' by the group, was being set up for an event on the west coast of Australia when a strong gust of wind whisked it away.
"I probably overestimated my ability and underestimated Daphne's hunger for freedom and she just bolted," said Peter Marr, President of the Cockburn Masters Swimming Club.
"After 50 meters she was just gone baby, gone. I couldn't keep up."
So far, sightings by fishing vessels have indicated that the $900 duck has traveled over 400km.
The club is now offering a reward to anyone who can help to ensure its safe return.
Source: Decann Chronicle | Comments (9)
Similar stories based on this topic:
Tags: Duck