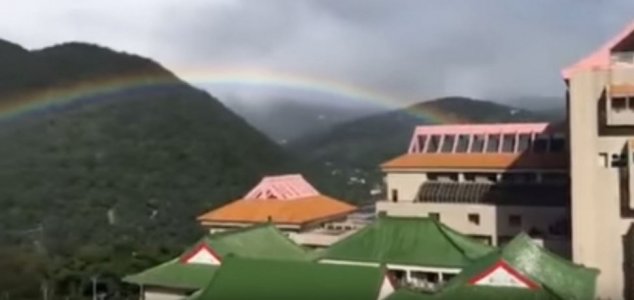 The rainbow appeared over the university.

Image Credit: YouTube / Chinese Culture University
A record-breaking rainbow lasting almost nine hours has been recorded by two scientists in Taiwan.
Chou Kun-hsuan and Liu Ching-huang from the Chinese Culture University (CCU) in Teipai observed the rainbow from the roof of the campus building on November 30th.
It appeared from 6:57 a.m. to 3:55 p.m. - a total of 8 hours and 58 minutes. It is thought that a seasonal monsoon may have been responsible for keeping it going for so long.
The previous record was set in Yorkshire, UK in 1994 when a rainbow lasted for around 6 hours.
The two scientists, who had originally set out to prove a theory that rainbows descend seven degrees every 30 minutes, are now hoping to earn a place in the Guinness Book of Records.
Source: Taiwan News | Comments (7)
Tags: Rainbow