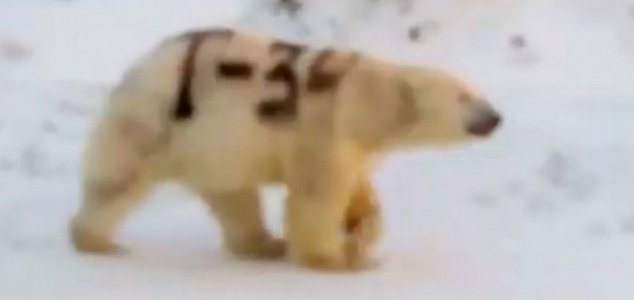 Who painted the side of this polar bear ?

Image Credit: Facebook / Sergey Kavry
An investigation is currently underway in an effort to track down who is responsible for painting the animal.
Footage of the bear, which has racked up hundreds of thousands of views on social media, was recently posted up on Facebook by Sergey Kavry of the World Wildlife Fund (WWF).
It had been initially shared on a WhatsApp group for the people of Russia's eastern Chukotka region.
"T-34" happens to be the name of a tank used by the Soviet Union during World War II, however it is unclear if the graffiti is a reference to this or something else.
"I don't know the details of which region, district, or vicinity this [footage] was taken," wrote Kavry. "If it's a military lettering theme... that is some kind of perverse disrespect for history."
According to Anatoly Kochnev of the Institute of Biological Problems of the North, whoever was responsible must have sedated the animal because the letters are too straight to have been haphazardly plastered onto its side while it was moving around.
It remains unclear if the lettering will impact the polar bear's ability to stay camouflaged while hunting.
---
Update:
A recent report has indicated that "T-34" may in fact be a grid reference and that the polar bear, far from being graffitied, had in fact been marked by scientists from the Severtsov Institute of Ecology and Evolution who had been sent to assess the threat the bears posed to local villagers.
The 'safe' paint used will reportedly disappear within two weeks.
Source: BBC News | Comments (14)
Similar stories based on this topic:
Tags: Polar Bear