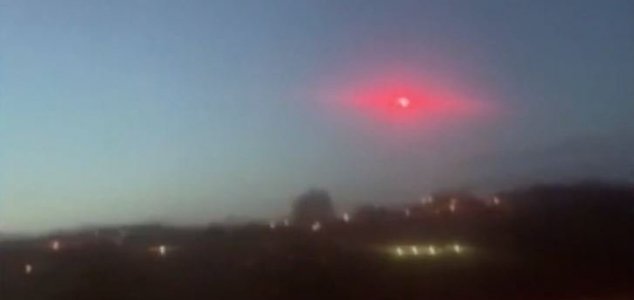 This object was spotted back in November.

Image Credit: YouTube / Juran Harrison / Telegraph and Argus
Police in Bradford, England have released details of three incidents involving sightings of UFOs over the city.
The reports, which were made public following a Freedom of Information Act request by the
Telegraph and Argus
newspaper, occurred over a period of five years.
The first, which happened in August 2015, involved a caller who saw what was described as an "exceptionally fast" oblong-shaped object with three red lights and three flashing blue lights.
The second object, which was sighted in August 2017, was said to be triangular in shape with red, blue and white lights. It was seen hovering for a time before slowly moving away.
Perhaps the most interesting of all however was the third report from April 2018 which described a "white ball" in the sky which hovered over a woman's house.
"Caller states she was woken up by this; the UFO is a white ball in the sky then turns into a blue-purple ball," the report reads. "Seemed to turn with caller as she looked at it; sounded like a helicopter; the UFO was over caller's house for a while, unknown how long it was there for; only 1 object seen; caller looking from front of her house."
Another UFO report was also received by the newspaper itself - this time from late November 2019.
Juran Harrison described seeing a bright red object in the sky over the city for a short time and even managed to capture video footage of it (viewable below).
"I would describe it as a burning red light, was moving sideways then down and away leaving a slight trail behind it, then, as quickly as it appeared, it is gone," he said.
Source: Telegraph and Argus | Comments (11)
Similar stories based on this topic:
Tags: UFO, Bradford