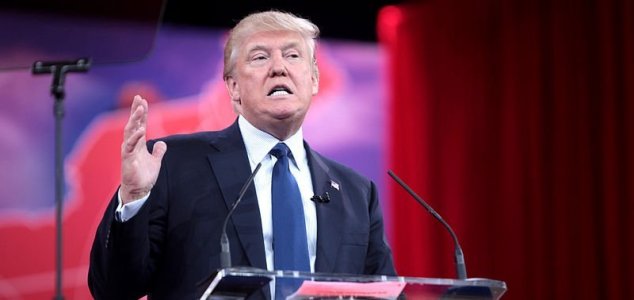 Trump has recently replied to several questions about UFOs.

Image Credit: CC BY-SA 3.0 Gage Skidmore
The US President was asked point blank about the topic of UFOs during a Fox News interview on Sunday.
During the 'Sunday Morning Futures' segment, host Maria Bartiromo has been interviewing Trump when she asked him whether or not UFOs (or Unidentified Aerial Phenomena) actually exist.
"Well, I'm gonna have to check on that," Trump replied. "I mean, I've heard that. I heard that two days ago, so I'll check on that. I'll take a good, strong look at that."
He followed up his answer by suggesting that the US could defend itself against such objects.
"But I will tell you this," he said. "We have now created a military, the likes of which we have never had before in terms of equipment that we have, in terms of the weapons that we have and hopefully - hope to God - that we never have to use them."
Back in June, Trump had been participating in a Father's Day-themed interview with his own son, Don Trump Jr., when he was asked about the alleged UFO crash at Roswell, New Mexico.
"There are millions and millions of people who want to go [to Roswell], who want to see it," Trump replied. "I won't talk to you about what I know about it, but it's very interesting."
"Roswell is a very interesting place with a lot people who would like to know what's going on."
When asked if he would ever consider declassifying information on the matter, he replied: "Well, I'll have to think about that one."
Source: Fox News | Comments (13)
Similar stories based on this topic:
Tags: UFO, Trump