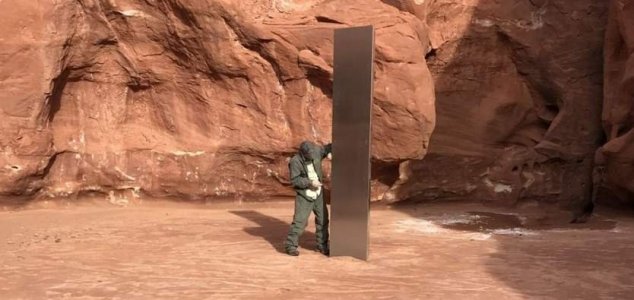 Who were the men who took the monolith away ?

Image Credit: Utah Department of Public Safety
A photographer who had been visiting the mysterious monolith claims he witnessed it being taken away.
Much speculation has surrounded the metal monolith recently discovered by a helicopter pilot in the Utah desert and in particular, who was responsible for putting it there and who had taken it away.
Now however, a witness - photographer Ross Bernard - has come forward with a post on Instagram to claim that he personally saw the artefact being removed from the site.
"On Friday, 3 friends and myself drove the 6 hours down to the middle of nowhere in Utah and got to the 'trailhead' around 7 PM after passing a sea of cars on our way in," he wrote.
They had remained at the monolith for around 90 minutes when they heard voices approaching.
"4 guys rounded the corner and 2 of them walked forward," Bernard continued. "They gave a couple of pushes on the monolith and one of them said 'You better have got your pictures.'"
"He then gave it a big push, and it went over, leaning to one side."
"...Then all four of them came up and pushed it almost to the ground on one side, before they decided push it back the other when it then popped out and landed on the ground with a loud bang."
"They quickly broke it apart and as they were carrying [it] to the wheelbarrow that they had brought one of them looked back at us all and said 'Leave no trace.' That was at 8:48."
If this story is true, then who were the people that took the monolith away ? Were these same people responsible for putting it there in the first place ?
The search for answers continues.
Source: Sky News | Comments (111)
Similar stories based on this topic:
Tags: Monolith