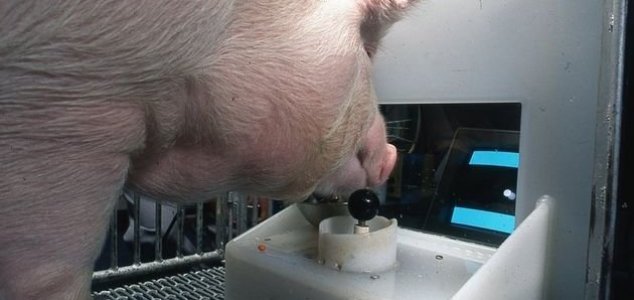 Pigs are capable of playing video games.

Image Credit: Pennsylvania State University
A new study has demonstrated just how quickly pigs can adapt to tasks that were previously totally alien to them.
The fact that pigs are remarkably intelligent is nothing new, but what isn't as well known is just how capable these animals actually are at adapting to new tasks in unfamiliar environments.
For a recent study, scientists recruited four pigs - two Yorkshire pigs named Hamlet and Omelet, and two Panepinto pigs named Ebony and Ivory - which were all kept at Pennsylvania State University.
An experiment was devised which involved having the pigs move a cursor across a computer screen by manipulating a joystick with their snouts. If the cursor hit a wall, the pig was rewarded with a treat.
The test had been designed for monkeys, however it turned out that the pigs were quite capable of learning how to manipulate the cursor using the joystick and could even complete the game when it featured fewer walls, thus making the task of hitting one more difficult.
One of the pigs even managed to achieve a 76% win rate at the highest difficulty setting.
Overall they weren't quite as good at moving the joystick as the monkeys, however that could be because, unlike the monkeys, they had to control it using their snouts.
"That the pigs achieved the level of success they did on a task that was significantly outside their normal frame of reference in itself remarkable, and indicative of their behavioral and cognitive flexibility," the study authors wrote.
"[The pigs] continued to make correct responses when rewarded only with verbal and tactile reinforcement from the experimenter, who was also their primary caretaker."
Source: Huffington Post | Comments (11)
Similar stories based on this topic:
Tags: Pigs