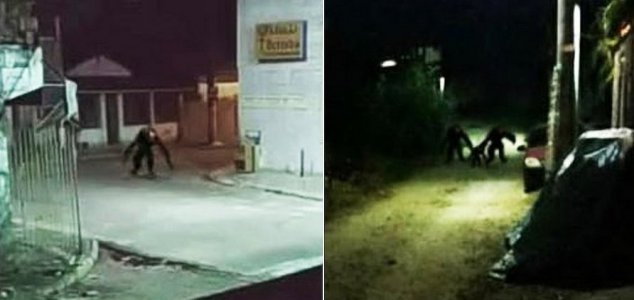 What exactly are these creatures ?

Image Credit: Twitter
The photographs show alleged ape-like creatures rumored to be skulking around Brazil's Itaparica Island.
Every country seems to have its own version of Bigfoot and Brazil is no exception, as evidenced recently by rumors of an (albeit smaller) ape-like beast reported on Itaparica Island.
The stories are centered around Ilha de Misericordia in the state of Bahia where a curfew in response to the coronavirus pandemic has left residents restricted to their homes.
This hasn't stopped some strange stories emerging from the region, however, with some reporting sightings of peculiar ape-like creatures wandering the deserted streets at night.
Most recently, two photographs have been circulating social media, one showing a creature walking along a quiet road and another which shows three creatures - two adults and a juvenile.
They have very long arms and appear to walk upright on two legs while slightly hunched over.
What the images actually show however remains unclear - could these simply be native primates that have wandered into the streets due to the curfew ? It's also possible that the images are a hoax, perhaps created using image manipulation, costumes, puppets or some other means.
"The first one is very well done, because of the shadows," said image expert Francisco Patricio. "The animal is going against the light, and it is very straight in front of the animal. And in the second, it is very difficult to identify even the existence of a shadow because it is not illuminated."
"You can't tell if they are false or true. However, low-resolution photos are perfect for optical illusion. You can dress up and go to the dark so that it is easy to create something that looks real."
Source: Vozdabahia.com.br | Comments (21)
Similar stories based on this topic:
Tags: Cryptid, Brazil