By:

Art

| Location:

Whittier, U.S.A.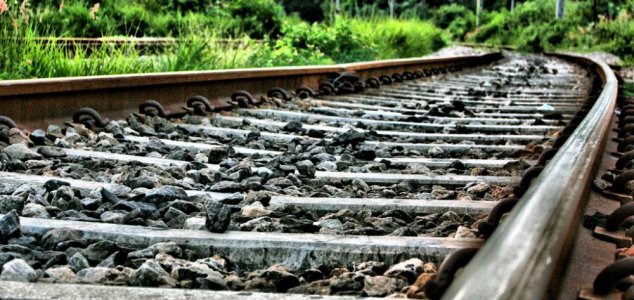 Image Credit: CC 2.0 Easa Shamih
I don't understand what I saw, but I actually touched it and pulled on it. I know what it looked like, but can't explain! I took my morning walk along side of the rail road tracks by my house which I've taken many times. I walk a couple of miles(1 mile down and 1 mile back). On the way back I noticed which looks like a "Synthetic(nylon)bristles from a small broom or duster" sticking out of the ground!
It was about 2/3 white and the bottom 3rd was lite red or D. pinkish in color. The ground on both sides of the tracks are very, very dry and hard, like cement. In yet these bristles are sticking out of the ground about 6-7 inches, and they were sticking straight up/out so that, the bristles were evenly opened up like as if it was a Flower, or under Sea plant.
I stopped right above this Bristle and stared at it for a second, then decided to pull on it to see if it would come out so I could see what it was.. BUT, it was stuck in the ground like it was cemented in. IT DID NOT BUDGE!!! And I pulled hard on it! So, OH well, I just kept on walking(and thinking)about how and what and who could have shoved that Bristle Broom into the ground with such force, and the ground around did not look to be disturbed in any way.
I walked about 15'ft. and thinking about it, when I decide to look back at it, when I did.. IT WAS GONE! I said to myself, wait a minute, I thought well I just can't see it from here so I turned around and walked back just a few feet to where it was, but NOTHING was there! The ground around the tracks, again, was very dry and solid like cement. But this thing, should be right there, but wasn't!
I'm going to have to go back there again tomorrow just to double check, maybe I just didn't walk back far enough.. But I thought again, I only took about 15 steps from where I saw and when I return to that same spot it wasn't there!
I will go check again tomorrow! And comment again on it.. Today's date is 4/25/18
Continued...
This is a follow up to my story I told the other day to "Unexplained Mysteries". I'll take just a second to explain what happened, and then what I did the following day!
I was walking next to some train tracks by my house, where I have been walking for years(for exercise). It's the same path, same tracks that I've walked on many times. BUT, a couple days ago I was walking along these train tracks when I noticed something strange sticking out of the ground, which at first glance I realized what it was, it was the "bristle end" of a Dust brush. I could see, that it looked like a type of synthetic fiber(nylon bristles)duster, the fibers were maybe an 1/8th of an inch in diameter and there was quite few fiber bristles.
This thing was some how shoved into the ground by the tracks, even though the ground next to the tracks is like "Cement" which is as hard as a rock. I stared at it, I started to think, "How could anybody shove that bristle duster into the ground when it would be impossible to do that..? The other thing I noticed was the fact that, it was not only shoved into the ground, BUT, shoved into the ground PERFECTLY straight, so that it allowed each bristle to HANG downward in a FLOWER SHAPE, or, the shape of a Water Fountain that sends the water up into the air and comes down in a Perfect round shape, which forms the shape of/like a flower.
"I pulled on it"! Again I stared at it for a few seconds realizing that some how it had been shoved into the ground, which would be absolutely impossible, so, I tried to give it pull to see if I could pull it out of the ground.. I bent over to pull this thing out of the ground, BUT, "it would not budge, nor could I make it give in any way".. I pulled on it with all my might and it was like "it must have been attached to something below the surface of the ground"!
So, at that point I thought it was really odd, but I had to keep on walking to get back to my home.. I walked about 15 steps away from it, still thinking about that strange thing, when I decide to look back at it and just ponder what it was, and when I turned back to look at it from just maybe 20 feet, "IT WAS GONE"!! I thought , "wait a minute", so since it was still close, I turned and walked back those 20 feet or so, and "Nothing", it just was not there.
SO, I decided just to go home, all the while I'm still thinking about how strange this whole event was. So I decide to rationalize the situation. I told myself, that I just had not walked back far enough to where it was, and decided to retrace my steps and the walk "the very next day"! And I hoped, that I would see it(find it) cause some how I just missed the exact spot where I had seen it, when I first saw it..
SO, the next day, I went on the same walk, path, train tracks, etc.. And guess what ?? It was not there, I tried to scan with my eyes back and forth between the tracks and the backside of some apartments so as to NOT miss anything. BUT nothing, it was still gone just like the day before, after I pulled on it and walked about 20 ft. and turned to look at it. It was gone when I looked for it the first day, and it was still gone the following day!
I can't believe that I saw this thing, actually pulled on it, then it was gone!!?! I can't explain this event. It was still morning when this happened so I was wide awake. My story happened just the way I explained it! I need to talk to someone about this, I feel like telling everyone I know, and not worry what they think, Because this story I'm writing about REALLY and TRULY happened! Can anyone help me understand what and why I saw this thing?
Does anyone understand, that this thing whatever it was, is still out there.. BUT, what was it??
Comments (33)