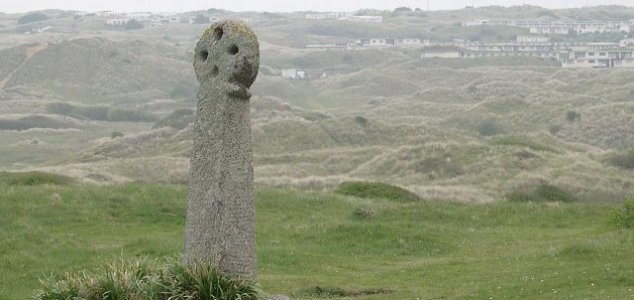 St Piran's Cross.

Image Credit: CC BY-SA 2.0 Tony Atkin
The beverage was discovered at St Piran's Oratory, one of the UK's oldest places of Christian workship.
The beer was unearthed during an archaeological excavation of the oratory ruins which date back to the 6th century. Legend has it that St Piran was thrown in to the ocean with a millstone around his neck by the king of Ireland but miraculously survived by floating all the way to Cornwall.
A St Austell Brewery spokesman believes that the beer found at the site, which was described as being in 'immaculate condition', likely dates back to around 1910. Controversially the bottle even has a swastika logo on the cap, a feature thought to be common at the time.
Archaeologists believe that the beer was accidentally left in the sand by a worker involved in a project to protect the oratory by encasing it in concrete over 100 years ago.
It is highly unlikely however than anyone is likely to try drinking any of it.
Source: BBC News | Comments (12)
Tags: Beer, Church