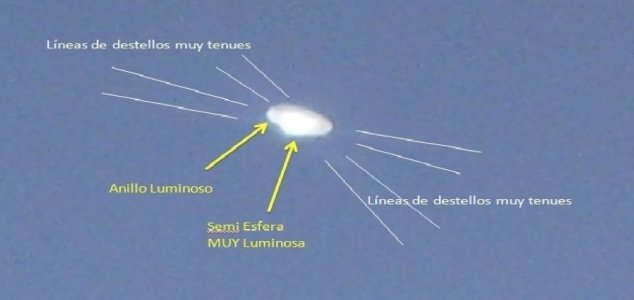 The annotations describe the luminosity of the object.

Image Credit: CEFAA
The Chilean government has concluded that an object witnessed over a copper mine was not man-made.
The sighting, which took place in 2013, has remained one of the most prominent UFO cases in recent years, especially in Chile where interest in the phenomenon is so high that there is a whole government office dedicated to researching it.
Now according to a new report by experts at the Centre for the Study of Anomalous Ariel Phenomena (CEFAA), the object witnessed over Collahuasi in the north of the country was "not any weather phenomenon or any other known object made by man."
Miners who had witnessed the object at the time described it as silver in color and recalled how it had performed impressive aerial acrobatics above their heads at an altitude of around 2,000ft.
CEFAA officials who had conducted a lengthy investigation in to the incident maintained that it couldn't have been a drone and that it wasn't any known meteorological phenomenon.
"Witnesses were left with the impression the object was being controlled," they wrote. "The evidence was analyzed by a meteorologist, who ruled out the possibility of the object being a lenticular cloud."
"One expert in image analysis concluded that the photographs correspond to an object that could not be identified."
The original images, along with those from several other cases, can be viewed -
here
.
Source: Yahoo! News | Comments (45)
Similar stories based on this topic:
Tags: UFO, Chile