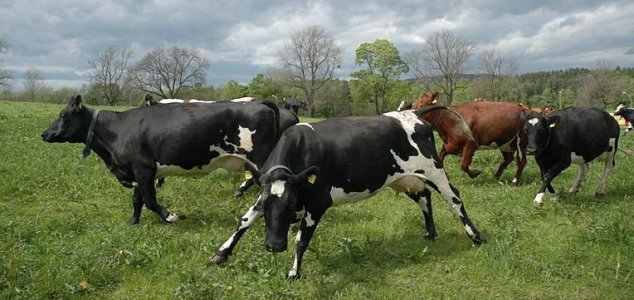 Why did the cows jump off the cliff ?

Image Credit: CC BY-SA 4.0 Sondreaasan
Farmers in Switzerland were left perplexed after the animals escaped their pen and leapt to their deaths.
The peculiar incident, which happened on Wednesday night near the village of Levron, saw a total of 13 cows breaking out of their pen, running towards a cliff edge and then hurling themselves off it.
12 of the animals were killed by the 50-meter drop while one, which seemingly landed on top of the others which cushioned the fall, managed to survive and was later taken to an animal hospital.
"The cows broke through several lines around the pasture before finding themselves on the ridge," said local farming insurance company president Norbert Terrettaz.
"They fell into the void, as though they were forced into it."
One possible explanation is that the animals had been spooked by a predator or a dog.
"They must have been blocked somehow," said breeder Benoit Berguerand. "One or two cows falling off, that's possible. Thirteen, that's a new and incomprehensible phenomenon."
"It is unlikely that they threw themselves off without pressure."
Source: The Local | Comments (57)
Similar stories based on this topic:
Tags: Cows, Switzerland