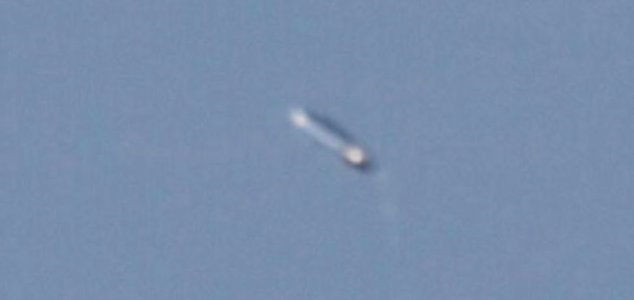 Is this a balloon, or something else ?

Image Credit: YouTube / spacebret
Wildlife enthusiast Bret Jones had been out filming birds when he noticed something unusual in the sky.
Jones had been just outside Greensboro, North Carolina on Saturday, January 25th when he caught sight of what he initially believed to be a flashing light out of the corner of his eye.
"I just saw this flash in the corner of my vision," he said. "I look over and there's a plane and I saw the flash again, but it was just near it."
"I already had my camera strapped to me and I started trying to capture it."
"I told my wife I just saw a UFO and she said 'oh yeah, again?' but then I look at the video and scroll and I was just like I have no idea what that is!"
It turned out that the object he had captured on film wasn't simply a flashing light but a strange silver cylindrical object that seemed to spin around as it flew through the air.
While some have suggested that it could be a balloon, Jones remains unconvinced.
"If I see evidence that it's indisputable for me that it would be balloon then yeah I would say it's just a balloon," he said. "But after 10 seconds, I couldn't see it in the sky anywhere."
"Why would a balloon, if it was just twisting around, why wouldn't I see it again ?"
The object can be viewed in the video below from the 1:50s mark.
Source: Spectrum Local News | Comments (134)
Tags: UFO