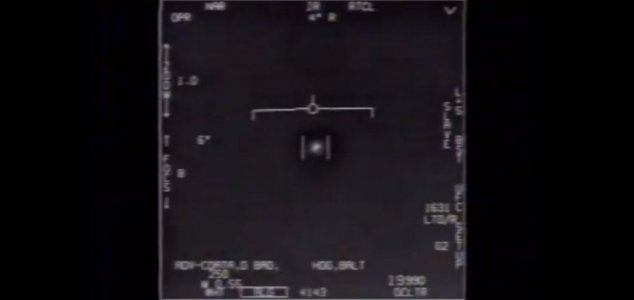 Did a US fighter jet track an unknown object ?

Image Credit: US Navy
A video allegedly recorded by a fighter jet based on the carrier USS Nimitz has surfaced online recently.
It is claimed that the footage, which was recorded in 2004 around 100 miles from San Diego, shows an unidentified object being pursued by a Super Hornet fighter jet. According to reports, the UFO remained in the vicinity of the USS Nimitz for several hours and climbed to an altitude of 80,000ft.
The story first came to light in 2015 and gained prominence more recently after being referenced by musician Tom DeLonge during his "To The Stars Academy of Arts and Science" announcement.
There actually appear to be two mysteries here - one concerning the events that took place near San Diego and the other being the authenticity of the video footage reportedly connected to it.
Las Vegas author and retired United States Army colonel John B. Alexander believes that the video actually did originate with the US Navy and that the USS Nimitz UFO incident actually happened.
Citing a "very highly placed" source, he told Fox News in an email that "the update is they believe the video to be real, but do not -- do not -- confirm the authenticity."
London researcher Isaac Kol, on the other hand, believes that the footage may have originated on a website run by German film students back in 2007, increasing the likelihood that it has been doctored.
The search for answers remains ongoing.
Source: Fox 5 Vegas | Comments (8)
Similar stories based on this topic:
Tags: UFO, Nimitz