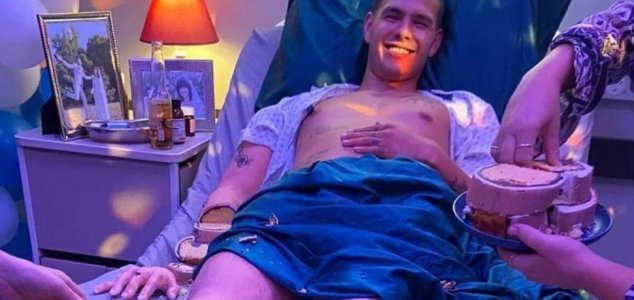 This man is a cake. Yes, really.

Image Credit: Instagram / the_bakeking / Ben Cullen
Mind-boggling photographs of a cake-limbed man lying in a hospital bed have gone viral on social media.
Take a close look at the photograph above - what do you see ? At quick glance it looks like just an ordinary man lying in a hospital bed, but what's going on with his right arm ?
Posted up on Instagram by 'The Bake King' Ben Cullen, the image is one of a series of shots which show that the man's legs and arm, which have been cut into slices, are actually made of cake.
The images have since gone viral, with thousands of people on social media expressing shock and intrigue at how the scene was made and speculating over which parts of the man's body are real and which are made of cake.
It turned out that the human cake was created for the music video 'Feel Away' by Slowthai.
"All his body parts were made from vanilla cake and chocolate ganache with sugarpaste details," Cullen wrote.
Even so, we can't see many people actually wanting to eat them...
Source: Munchable | Comments (8)
Similar stories based on this topic:
Tags: Cake